Border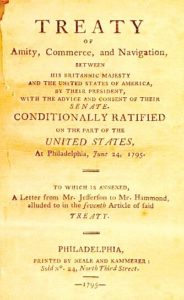 Du Vernet mentions meeting a number of American Indians when they came over to Canada's side of the border to play cards. He also notes the long journey Tom Overcome's family took during the winter to "visit the American Indians"; a journey that turned out to be fatal, as both Overcome's wife and baby died. Although Du Vernet was probably not aware of it, he was alluding to the significance of the border separating Ontario and Minnesota. Richard Wagamese writes that in the Ojibwe language, Anishinaabemowin, there is no word for boundaries or map, so historically land was not divided by straight lines. Instead, the distinction between the different territories of different bands or families was a natural marker, such as a bend in the river or a cliff. Du Vernet bears witness to the community and family ties that had not been severed by the border or by the laws governing their movement across it.
A challenging border
The Jay Treaty of 1784 is an agreement between the US and Canada governing the movement of First Nations across the border. This treaty allowed for individuals with "50% native bloodline" to cross freely from Canada into the United States while First Nations from the United States could all cross over into Canada freely until the 1924 Immigration Act. The boundary being a river, it split freshwater, natural resources, and ecological concerns.
The physical nature of the river, constantly flowing with migrating wildlife, makes it challenging to contain and regulate resources. The responsibility to preserve and regulate the environment at the Rainy River falls upon the The International Joint Commission (IJC).
International Joint Commission
The IJC, which was set up in 1909 to oversee all U.S. and Canada shared waters, makes non-binding recommendations to the governments of both Canada and the United States when issues with water use and quality arise. In 1898, the IJC was concerned with the water levels in the Great Lakes, which were threatened by the diversion of water along the boundary. This diversion was the result of the high demand for water for irrigation purposes and for the powering of hydroelectricity.
More recently, the IJC has released a Water Quality Plan to address concerns about the river. These concerns include contaminants from mining and agricultural activities, predicted ecosystem changes, and algal blooms, all of which are dangerous for the health of people, the land, and the river. These are possible ongoing consequences of establishing a river border.
Sources
Richard Wagamese, "First Nations Face Border Struggles: In a land with no lines, how do you define the end of one territory and the beginning of another?" Canadian Geographic July 1, 2010.