Image: 
Detail of Bishop Frederick Du Vernet, Prince Rupert (ca. 1909). Photograph courtesy of the Prince Rupert City and Regional Archives (P991-72-6156).
---

ONE DIARY,

MANY

STORIES:

The Story of Radio Mind
---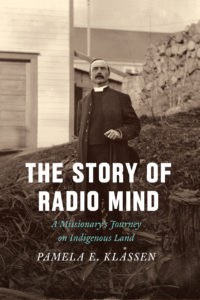 Pamela Klassen's book The Story of Radio Mind: A Missionary's Journey on Indigenous Land tells a longer story about Frederick Du Vernet's travels west. A few years after his 1898 visit to Manidoo Ziibi, he became the Anglican Bishop of Caledonia on the northwest coast. He lived and worked in Ts'msyen, Nisga'a, and Haida territory from 1904 until his death in 1924, at the age of 64.
The Story of Radio Mind takes its name from Du Vernet's late-in-life turn to psychic research, when he proclaimed that he had discovered proof of the reality of telepathy, or what he called "radio mind." Working with his daughter Alice to prove that human beings could communicate by sending messages to each other from mind to mind across great distances, Du Vernet wrote tirelessly about his radio mind discoveries in both church and secular newspapers. At the same time, he wrote many letters to his church colleagues in Toronto to protest what he called the evils of residential schools for Indigenous children, quoting the words of many Indigenous parents who had asked him to intervene on their behalf.
Radio mind did not become a household word, while residential schools–and all their evils–spread. To understand how Frederick Du Vernet, eventually an Anglican Archbishop, came to the unusual mix of embracing telepathy and rejecting residential schools, The Story of Radio Mind follows him on his journey across Indigenous land. Tracing the ways different media—photography, maps, printing presses, and radio—shaped the stories that missionaries and Indigenous peoples told each other, Pamela Klassen shows how the stories that invented Canada depended in part on spiritual claims that sought to erase those of Indigenous nations.
In chapter four, "Picturing the Soul on Manidoo Ziibi," she finds the first stirrings of radio mind in Du Vernet's interactions with Ojibwe women and men along the Rainy River. As he met with both interest and resistance when he tried to take their photographs, he was also made newly aware of Ojibwe powers of spiritual communication.