Burial Practices
Taking care of graves 
Du Vernet showed a fascination and respect for Ojibwe burial practices throughout his diary. He described the Ojibwe gravesites he observed on an afternoon walk on Monday July 18th with great curiosity and detail, and went so far as to suggest that Ojibwe practices should be the model for Christian ones: "as the Indians take great care of their graves it is right that the Christians should do the same."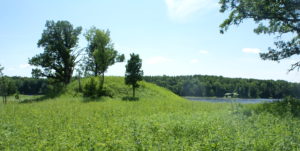 Why was Du Vernet so very captivated by and curious about these Ojibwe gravesites? Du Vernet seems to have been particularly interested in the material culture surrounding the gravesites and takes time to carefully list out items: the berries; the forks; the ribbons; the 10 cent coin; and so forth. Perhaps Du Vernet was searching for clues that would help him comprehend Ojibwe understandings about death, grieving, and the spiritual world. Du Vernet also noted in his diary that Jeremiah Johnston, the Cree missionary, dismissed these Ojibwe offerings to the deceased as foolish thinking. Jeremiah Johnston's dismissal reflects differences between Christian and Ojibwe beliefs about what happens to and what is required of the spirit/soul after death.
Beliefs about death
Ojibwe Elder Basil Johnston explains that Ojibwe burial practices are largely based on the belief that when a person passes they must travel from this life to the Land of Souls along the Path of Souls. Ojibwe tradition contains elaborate ceremonies surrounding death and mourning, some of which are intended to assist the deceased as they find their ways along this path. Many of the rituals described by Basil Johnston are similar to Du Vernet's description: upon the death of a loved one, the family would comb the dead person's hair, paint their face, dress them in ceremonial clothing and wrap them in blankets.  Families would bury the deceased with personal possessions, such as pipes, tobaccos, pouches, bowls, and kettles, and medicine bundles to assist the deceased on their journey to the Land of Souls. Relatives place a totem at the head of the grave of the deceased and keep a fire burning for the deceased for four nights. Gravesites would often be visited by relatives who keep them clean and tidy and who may leave food and objects for their departed loved ones.
Christian missionaries such as Jeremiah Johnston and his wife Mary, who also told Du Vernet a story about Ojibwe burial, would possess radically different understandings about death and the afterlife. Within a Christian understanding of death as "eternal rest," a soul might be understood to pass to "the Kingdom of God" or "heaven," where worldly items would be unnecessary. That said, many Christians are also buried with ceremonial clothing and artifacts, such as jewellery and Bibles, and their families mark their graves with headstones and by leaving flowers and other mementos at the grave.
Sources: 
Johnston, Basil. The Manitous: The Spiritual World of the Ojibway. New York: Harper Collins Publisher, 1995.
Johnston, Basil. Ojibway Ceremonies. Toronto, McClelland and Stewart, 1982.