Cree
The Cree are a populous and widely distributed Indigenous nation on Turtle Island. The Cree people live in what is now called Quebec, northwestern Ontario, Manitoba, Saskatchewan, Alberta, and the Northwest territories. In the western provinces, many Cree married with people from other First Nations, and in the nineteenth century, Cree women often had children together with white settlers. This was the case for Jeremiah Johnston's parents, with his mother being half Cree while his father was an English saddle-maker.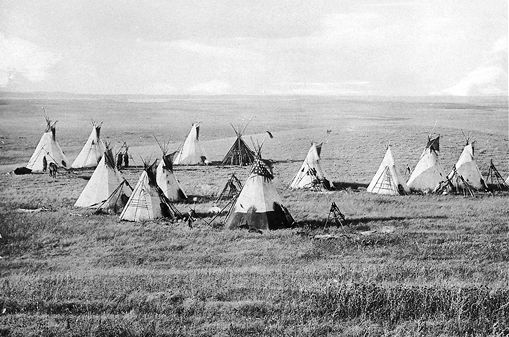 Language
Du Vernet mentions that growing up Jeremiah Johnston spoke Cree. Yet rather than being a singular language, Cree is better understood as a family of different dialects that vary in phonetics and grammar. Jeremiah Johnston was from the Swampy Cree, a group that lives along the Hudson Bay coast in northern Ontario and Manitoba, and so spoke Swampy Cree dialect.
History and traditions
Before European contact, the Cree people were nomadic, following seasonal animal migrations as their source of food. They lived in small bands for most of the year but gathered in larger groups in the summer for trading exchanges and ceremonies.
With the arrival of the Europeans, many Cree continued their cultural traditions away from the advancing white settlement, in the midst of the boreal forest and northern tundra. That said, the forts of the Hudson's Bay Company and the presence of fur traders meant that the Cree interacted often with Europeans, trading the meat and furs they hunted. By the nineteenth century, the Canadian government relocated and constrained the Cree to live on reserves, in an attempt to destroy traditional Cree forms of economy and governance.
Today
Today the Cree have taken on a national role in furthering the interests of Indigenous peoples on Turtle Island, working towards greater Indigenous autonomy and economic development. In Manitoba, for example, several Cree nations have taken a leading role in establishing agreements with the federal and provincial governments and companies to regulate resource extraction.
Sources

Preston, Richard J. "Cree." The Canadian Encyclopedia. September 09, 2012. Accessed July 12, 2017. View Online