by
Russell Turner
Russell is currently a MSc student in the Ecology, Evolution and Behaviour (EEB) department at Queen's University in Kingston, Ontario. His thesis looks at how different landscapes influence the genetic makeup of Arctic Common Eider sea-duck populations. More broadly, Russell is passionate about wildlife preservation and the role that science can play in aiding and informing management policies.
Topography, Land Use, Flora and Fauna
The District of Rainy River is categorized under the forest classification of Great Lakes-St. Lawrence Forest Region, which happens to be Canada's second largest forest region. This forest typically represents a transitional forest between the boreal forest to the north and the deciduous forests to the south, depicted predominately by species of white pine, red pine, eastern hemlock and yellow birch. The district sits at an average of 328 m above sea level, characterized by a network of waterways, marshlands, and a thin layer of soil on terrestrial grounds. Soil is sandy, poor in nutrients and it experiences low intensity forest fires. The river itself is classified as flat and slow moving with few rapids or harsh water. The climate in the region allows for a long growing season on average where there are roughly 100 frost-free days. This is possible due to the humidity created by such large bodies of water surrounding the area. There is on average about 694 mm of precipitation annually.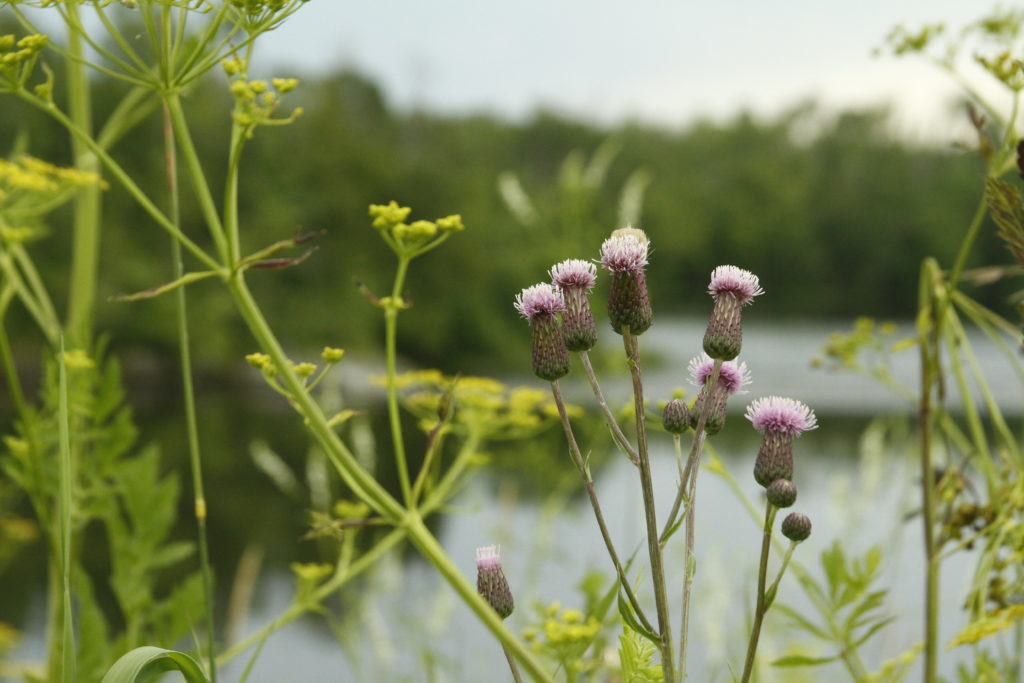 After the first European settlers arrived, the district was visualized as a highly fertile agricultural zone parallel to the riverbank. Stands of all tree species and natural vegetation were cleared along the riverbank, subjecting the soil to European farming techniques. In 1894, the Ontario government claimed that a span of roughly 130 km could support a population of 500,000 people, based on the richness and high fertility of soil. However, moving away from the river's edge, the quality of soil was said to diminish drastically. This reaming land was deemed suitable for mining and timber extraction. In just one year, 1896, there were 129 mining patents issued in the Rainy River on land deemed unsuitable for agriculture purposes or timber extraction. There were 143 gold mining operations between 1879 and 1904. However, most mines were closed or discontinued by the 1930s. The region once supported habitat for moose, deer, bear, elk, and caribou, but many of these species have become displaced by Euro-Canadian interaction with the lands.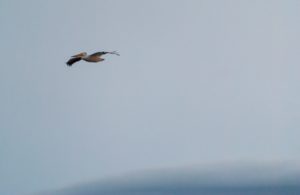 Through over-farming by heavy pesticide, herbicide, and nutrient use, combined with soil exhaustion, the quality of soil has diminished drastically. Today the district is no longer seen as such desirable agriculture land. Based on the State of the Basin report headed by the International Joint Committee the quality of natural habitat and ecosystems have been altered severely. Most farming operations in the Rainy River sub-basin are now predominately farming grains for livestock to support beef and dairy production. The soil quality is now classified as containing low nutrients and poor growing conditions. Present and future mining is supposed to be limited to exploration and development. However, there are 32 applications in the Rainy River Basin mainly for permits to mine copper and nickel, and there is also a resurgence in gold mining. Currently, the land in the district is used mainly for recreational purposes, including recreational hunting, fishing, ecotourism, and shoreline property ownership.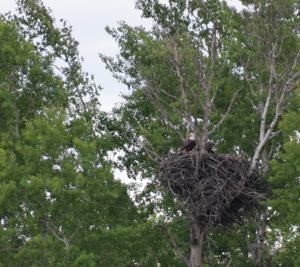 A large number of animals have recently been witnessed declining in population such as sturgeon, beavers, moose, deer, the bald eagle and the American white pelican. Under new ecosystem based management and a joint relationship between Canada and US organizations, populations of the above animals seem to be improving in recent years and future estimates are positive. However, Canada and US have different regulations and customs on commercial and recreational capture rates of these vulnerable populations. This has lead to a severe lag time in the efforts to restore population numbers back to a healthy balanced ecosystem.
Ecological Influences
There are four main ecological influences that the region must combat. These four main issues are being addressed by both Canadian and American organizations, with the goal of reducing each effect on the overall ecosystems. First, algal blooms, a cyanobacteria commonly known as blue green algae, have been increasing in waterways including the Rainy River and its tributaries. This algae is due to changes in agriculture, irrigation, and industrial pressure, which have significantly increased the nutrient loading, leaching, pollution runoff, or disposal of waste into the water table. The main catalyst for this algae growth is phosphorous runoff. The bacterium forms a bloom on the surface of the water, blocking out sunlight from reaching deeper waters and altering the oxygen balance of the aquatic ecosystem. This bacterium is also harmful to humans and can cause headaches, fever, diarrhea, and will irritate skin and eyes on contact.
Secondly, the ecosystem of the Rainy River District displays changes due to a warming climate. Evidence shows the yearly duration of ice cover decreasing and the number of frost-free days increasing. Future predictions see changes in forest cover, tree species composition, and shifting ranges in populations of large animals such as moose and deer.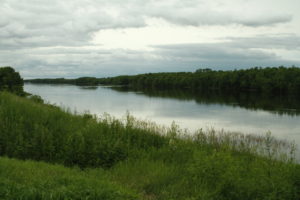 Additionally, general contaminants have had their own influence on the land. Though there are far fewer pollutants entering the land and watershed than other basins in North America, legacy toxins from historical mining operations and atmospheric contaminants are still evident in the region. Future mining activities may release more legacies or introduce their own new pollutants to the ecosystem as new economic activities continue. These contaminants have the ability to infiltrate the watershed, entering valuable drinking water and agriculture crops, causing serious health implications. Through bioaccumulation these contaminants pose as harmful toxins once they enter into human diet food webs. These pollutants have also aided in the exhaustion of the small amounts of fertile grounds that once stood parallel to the Rainy River.
The fourth and final main ecology-based influence currently affecting the Rainy River district is the number and variety of invasive species. These non-native species have drastically disrupted the biological communities present in the district. For terrestrial ecosystems, a changing of native species composition via global warming, human planting, and newly-introduced crops have already lead to new plant based bionetworks. Various forms of transportation and development have increased the number of weedy species present. If left uncontrolled or unmanaged, these newly-introduced species have the ability to destroy existing food webs, affecting every organism from, bees, flies, and birds, to deer, mouse, and even human diets. In the aquatic ecosystems, aggressive rusty crayfish, which consume two to three times as much food as native crayfish populations, have been out-competing local crayfish for feed. Local populations of fish and invertebrates prefer consuming the now low populations of native crayfish, stressing food sources. Additional invasive aquatic species include the northern clearwater crayfish, the zebra mussel, as well as several zooplankton and spiny water flea species. Currently, the monitoring of all invasive species remains a top priority for many of the multiagency departments, but it is not fully understood how to evaluate these invasive species' impact on the natural ecosystems.
Sources
Bourchier, R.J., and C.R. Stanton, "Forest Regions," in The Canadian Encyclopedia, 2006. View Online.
Clark, B. J., and Sellers, T., Rainy-Lake of the Woods State of the Basin Report. 2nd edition. Lake of the Woods Water Sustainability Foundation, 2014.
International Joint Commission, Lake of the Woods and Rainy River. View Online.
International Joint Commission, Oblak, J.A., Water and Health in Lake Of the Woods and Rainy River For Health Professionals Task Force, Final Report, 2009.
Kay-Nah-Chi-Wah-Nung National Historic Centre. View Online.
Nature Conservancy of Canada, Rainy Lake to Lake of the Woods. View Online.
New Gold: Rainy River Project, Winter 2014 Newsletter. View Online.
Ontario, Bureau of Mines. Report of the Bureau of Mines. Vol. 5. 1896.
Our Roots Online. The Rainy River district, Provence of Ontario, Canada: an illustrated description of its soil, climate, products, area, agricultural capabilities and timber and mineral resources, together with the laws and information pertaining to free grants and homesteads, to mining and preservation. Official Report of the Exploration of Rainy River District, 1896. View Online.
Rainy River Monlthly Climate Averages, World Weather Online. View Online.