Eliza Crowe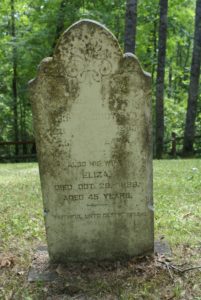 Eliza Crowe was 45 and ill with tuberculosis when Du Vernet met her in the summer of 1898. Married to John Crowe, a steamer pilot, Eliza was the mother of several children, including two whose deaths as small babies were memorialized by a gravestone in the Anglican churchyard: Thomas died in 1894 and Agnes in 1897.
The Eucharist & the Medicine Tent 
Eliza was Christian, and along with her two daughters she took part in the Sunday Eucharistic service at Long Sault on July 17th. Du Vernet writes of a conversation that Jeremiah Johnston had with Eliza, in which he sought to convince her to stop going to the medicine tent to treat her illness, by telling her she was not being a "consistent" Christian. Du Vernet and Johnston paid a Sunday afternoon visit to her "well built log house" by the river, finding her lying "consumptive" in her bed.
A Mother's Worries

Jeremiah Johnston added to Eliza's troubles by telling her that he did not trust the intentions of the young man from York Factory who was courting her daughter Annie. Though this young man had attended church not once, but twice that day, Johnston insisted to Eliza Crowe that he was trouble on two counts: he was not the marrying kind and he was not a "treaty Indian." Johnston's worry about the man's treaty status was likely because Crowe's daughter would lose her Indian status if she married a non-status man.
As the missionaries took leave of Eliza Crowe her "face looked anxious + troubled." She died three months later, on October 29, 1898, and was buried in the Anglican Church graveyard. Her grave, shared with her husband John Crowe, who died April 27, 1900, is inscribed "'Faithful until death.' Rev. 2:10.'"