John Sanders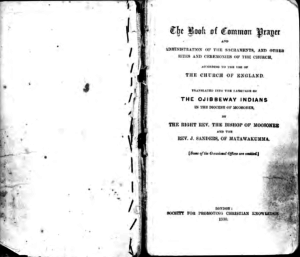 John Sanders was an Anglican clergyman and translator. Born on March 17, 1845, Sanders's mother was an Ojibwe woman, while his father was a white canoe builder. Growing up, Sanders spoke Ojibwe, but later learnt English and Cree. Sanders went to an Anglican school in Moose Factory, Ontario. There he met the Reverend John Horden, who began grooming Sanders for a career in the clergy.
Sanders was ordained deacon in May 1876 and priest in May 1879 at Moose Factory. During his service to the church, Sanders translated Christian works into Anishinaabemowin, including the service of morning prayer, and the Book of Common Prayer. These translations may have been the same ones used by Du Vernet as he traveled the Rainy River.
Sanders married Frances Swanson in 1870 and together they had several children. In 1885 he moved to the small lumber town of Biscotasing where he lived for the rest of his life, and where Du Vernet met him. He died in 1902.
Source
Smith, Donald B. "Sanders, John." In Dictionary of Canadian Biography, vol. 13. Toronto: University of Toronto Press, 1994. View Online