Mr. and Mrs. Bagshaw's House
Du Vernet woke up before 5 a.m. in the Little Forks home of the Bagshaws, with mosquitoes buzzing in his ears, and Jeremiah Johnston lying next to him. Clara Bagshaw made her guests breakfast, and a group of Ojibwe men, women, and children joined in for morning prayers afterwards.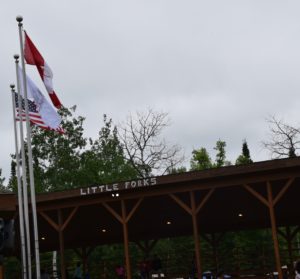 A storied space 
The Bagshaw's house is a space with a story that reveals both the tension and the curiosity that passed between Ojibwe women and men and the missionaries. During breakfast, for example, an "old woman" opened the door to peer inside. Known for her opposition to the mission—she had repeatedly pulled up the stakes when Mr. Bagshaw tried to claim land for the mission church—she showed her displeasure again by slamming the door and moving on.
Four other Ojibwe residents of Little Forks came to visit, and the Bagshaws asked Du Vernet to give a prayer. He invited all the Ojibwe to join in. Johnston, Du Vernet and the Bagshaws all lowered themselves to their knees for prayer, while the Ojibwe remained seated, speaking quietly to each other. Jeremiah Johnston read from the New Testament in the Ojibwe language, while Du Vernet "prayed earnestly for the souls in heathen darkness." One of the Ojibwe men, Du Vernet noted, sat inscrutably "with half closed eyes."
Reading gestures
In this house, built by an Anglican catechist on Ojibwe territory, the missionaries had mixed success with reading the gestures of their Ojibwe hosts. The slammed door seems to have been easily readable to Du Vernet as a sign of resistance to Christian missionary incursions on Ojibwe territory. The significance of the four Ojibwe men, women, and children who remain in their chairs while visiting the Bagshaws during prayer was much more difficult for him to interpret.