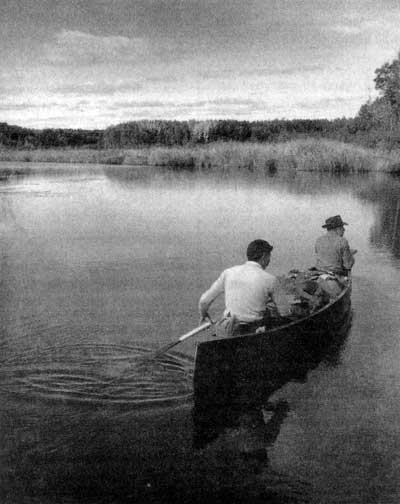 Click on the "play" button to hear the diary episode read aloud, and click on the green tab 1 to learn more about a word or phrase.
Find Du Vernet on a map.
Mr. Johnston and "Charlie," our Indian 2 Canoeman, carried the Canoe over a point to avoid the wild rapids, and Mr. Wood 3 and I got into the Canoe 4 a little lower down. About a mile below the Rapids we came to Mr. Wood's house. (He has a settler's grant of land 5 .) Next to him lives his wife's sister and her husband. Mr. Wood (about 45 years old) was married last September in Winnipeg, but the Young lady to whom he was engaged, failed to appear in the Church on the appointed day. Mr. Wood, not to be out-done, quickly found another bride, a pretty young woman 6 of 22, before returning to his mission. She was also engaged to another person but then heard that he was already married– he himself writing to her to this effect. Though it was only a hoax. She seems now to have settled down, and the Indians are beginning to like her, as she shows an interest in them and in their children. After tea we had prayers. I read and commented on the 121st Psalm 7 . Since they have a good organ, we sang several Hymns 8 . Charlie listened attentively.
[July 14th, 1898]
---
---