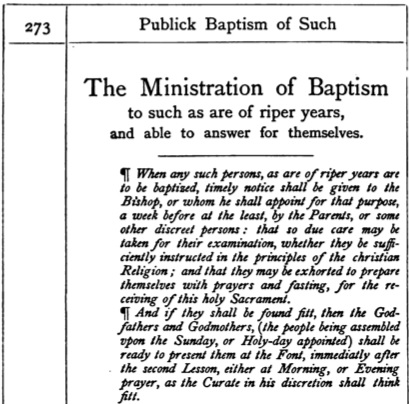 Baptized
Baptism and belief
Among Anglicans, only a priest can perform a baptism, and people are usually baptized as infants. The ritual itself involves sprinkling water over the head of the baby, while invoking the name of "the Father, the Son, and the Holy Ghost." The ritual also requires that someone renounce "the devil and all his works," on the part of the child. It has long been a ritual, then, that requires total adherence to Christianity, and does not permit the blending of traditions.
For Anglicans, baptism is a sacrament: an outward sign of the grace of God moving within a person. For a person to take Communion as an Anglican he or she would have to be both baptized and confirmed in their faith at a later age. Du Vernet mentions several people along the Rainy River being baptized as Christians. On July 19th he expresses his disappointment when "a Xn woman who had been baptized was persuaded by her husband to renounce Xy + go thro: the medicine tent." Here we see an example of re-embrace of Ojibwe spirituality.
Family decision
As a ritual that parents often decided for their children, baptism was often a family affair. Ojibwe men, women, and children who were ill sometimes converted to Christianity with the hope that baptism would cure their illness. Interestingly, Du Vernet notes several instances in which parents had their children baptized but did not choose the ritual for themselves. For example, he describes John Cochrane as a "father of 3 children who were baptized while he is still a heathen." For Anglicans, baptism was the line that separated the heathen from the Christian through a sprinkling of water and the invocation of the name of the Father, the Son, and the Holy Spirit. For some Ojibwe, baptism was a ritual that they turned to in the hopes of finding protection for their children against the threat of disease.