Robert Phair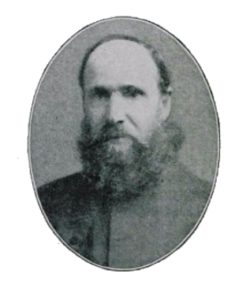 Robert Phair was born in County Tyrone, Ireland in 1837. He trained for two years at the Church Missionary Society College in Islington, London, and was ordained as a Deacon in 1864. That same year he left the United Kingdom for New York, and from there made his way to the Red River in Manitoba. At the age of 29, Phair was ordained a priest and would spend the next forty or so years of his life as a missionary in the Diocese of Rupert's Land, traveling frequently between settlements in northwestern Ontario and eastern Manitoba.
Phair married Martha Mary Smith at St. Peter's on Aug. 23, 1865. Immediately after their wedding, they embarked for the Landsdowne mission, on the Winnipeg River. Together, they had several children. Phair and his wife later traveled further north, to Islington, or White Dog, a Saulteaux tribe mission on the border of Manitoba and Ontario. Phair found the Saulteaux people of White Dog to be hostile to Christianity.
In 1874, Phair moved to the Rainy River area, taking charge of the Fort Frances mission, or Alberton station. His ability to speak Ojibwe allowed him to converse more freely with his hosts, and Phair claimed that the Rainy River Ojibwe were more open to Christianity than those in the Manitoban missions. He became Archdeacon of the Diocese of Rupert's Land in 1888, living in Winnipeg, and spent the rest of his career organizing the work of the Anglican Church along the Rainy River and Lake of the Woods, from Rat Portage in the west and Fort Frances in the east.
Phair retired in 1912 and spent his later years speaking at conferences around the world. His wife died in 1903.