Church at Long Sault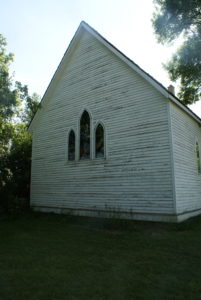 On Saturday July 16th, Jeremiah Johnston told Du Vernet a story about the placement of the Long Sault church. He said that he managed to build the church on high land that had been the site of the Old Chief's house, by convincing the current Chief Black Bird that to build on his father's land was a monument to the great man: "For years to come people passing up + down the river would say that Church marks the site of where the old Chief of this Reserve used to live." Johnston's "ingenuity" worked, according to Du Vernet, and the Church was built.
The "Old Chief" was likely the famous Madenopewais. The fact that the Anglican Church was built upon ground where the old Chief had lived was socially and symbolically significant. The erection of the new Church over the old Chief's land illustrates how missionaries hoped to appropriate culturally meaningful sites from the Ojibwe and restructure them according to Christian cosmologies of the land.
Although the church is now gone and there are no photographs available, Du Vernet gives a great deal of detail of the appearance of the church. It was "A very neat wooden building clap boarded on the outside, the walls and the ceiling being boarded inside." Jeremiah Johnston had made the chancel rail and reading desk with his own hand, but the church was still quite bare, and quite desperately needed a bell "to bring many more to the services," in Du Vernet's opinion.