Click on the "play" button to hear the diary episode read aloud, and click on the green tab 1 to learn more about a word or phrase.
Find Du Vernet on a map.
Diary of Missionary Tour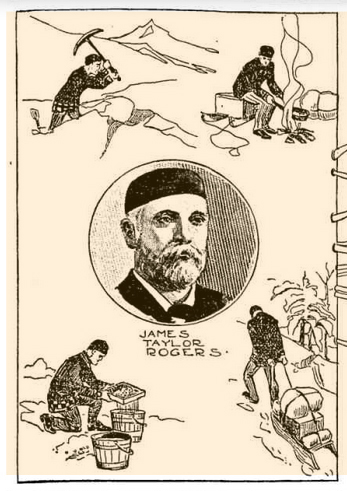 We left Toronto at 12:30 noon on Monday July 11th 1898, going east to Carleton Junction 2 , where we arrived at about 7 o'clock in the evening. In my section of the Pullman 3 I found a most interesting travelling companion in the person of a middle aged San Francisco lawyer, James Taylor Rogers 4 . At one time an agnostic he is at present an out and out socialist 5 whose thinking is bringing him nearer to God and mankind. His main principle is: the competitive system is wrong. Cooperation is the true method, and the history of economics has been as follows: first individualism 6 , then association, then cooperation and now trusts. The trust uses the cooperative principle to make money but when it comes to distributing this wealth it abandons the principle and goes back to individualism. The law of service is the Great Law of life. Every man has a right to four things: L, A, W, S—Laws.
L, for life: he must have a spot on this earth to live.
A, for air: he must have air to breathe.
W, for water: he must have water to drink.
S, for sunshine: he must have good sunlight.
Private property 7 tends to rob man of this, but public ownership 8 would secure all these things for him. Mr. Rogers and I talked several times about Christianity and his social principle of service. He was reading a book on prophecy and felt he would have to change all his thinking as he could not conceive of unaided reason 9 piercing the future.
---
---