Jeremiah Johnston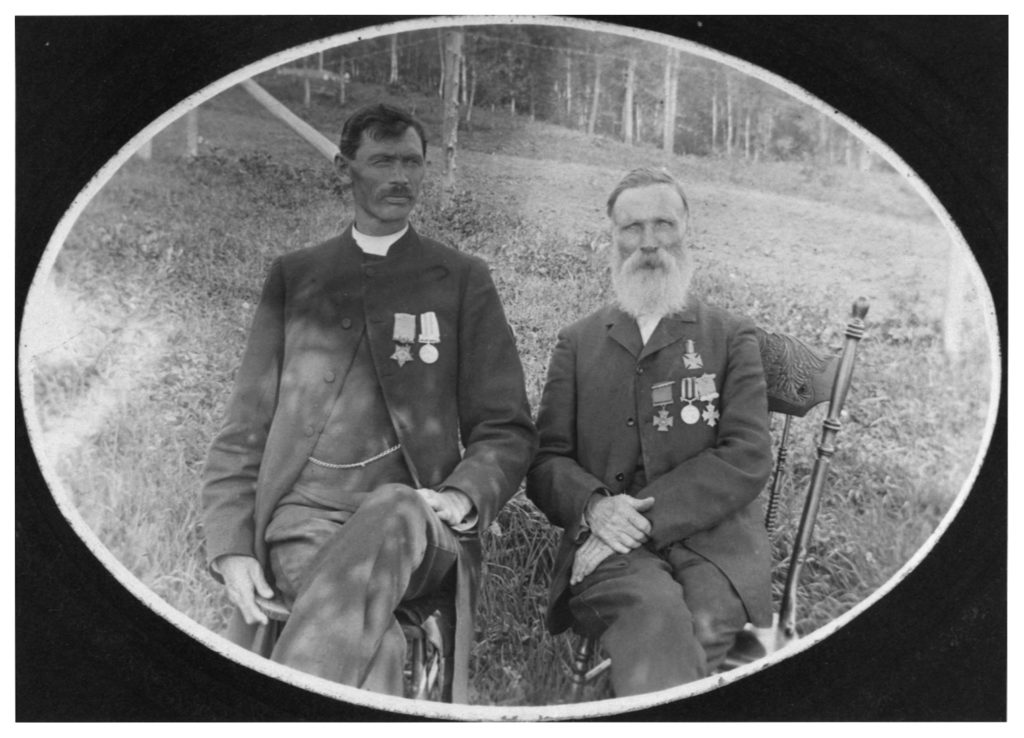 Du Vernet was lucky to have Jeremiah Johnston as a host. With his ability to speak Anishinaabemowin, his friendly relations with the people on the river, and his skill at sterning a canoe, he was essential for Du Vernet's visits with the Ojibwe along the river. Johnston was posted to the Rainy River in 1896, and built the first church on the river, after years of Ojibwe resistance to earlier missionaries.
Jeremiah Johnston led a fascinating life, traveling from Cree territory in Manitoba to the Sudan and back during his life as a soldier and Anglican missionary. According to Du Vernet's account, Johnston was born in the Indigenous Anglican parish of St. Peter's, Manitoba, on November 20th, 1860–the same year as Du Vernet.
Early Life on the Red River
Johnston's mother was a Cree woman from the region of York Factory, a Hudson's Bay Company trading post in northern Manitoba. She converted to Christianity when she moved south to St. Peter's as a widow with several children. A Red River settlement led by Chief Peguis, St. Peter's was a center of Indigenous Anglican life, until the government appropriated the land for white settlers in 1909.
Jeremiah Johnston's father was a saddlemaker "of English descent," who died when Johnston was two years old. Raised by his mother as a Christian, Johnston had two older brothers, John and David, and one sister, all of whom passed away before him. Johnston was educated at the Anglican Church Missionary Society School at St. Peter's and at the Anglican St. John's College in Winnipeg. He married Mary McLeod, also of Cree ancestry, and together they had 13 children, 6 of whom died before adulthood.
Life on the Nile and the Rainy River
Jeremiah Johnston served as a missionary in several Indigenous communities in northern Manitoba, the Rainy River, and the Red Lake area of Minnesota. In his diary, Du Vernet was particularly in awe of Johnston's time as a soldier-boatsman on the Nile, where he was part of the doomed effort to save the British General Charles Gordon during the Anglo-Sudan war.
Du Vernet was also clearly impressed with Johnston's ability to build rapport with Ojibwe along the Rainy River, even those who refused his Christian message. Able to speak Cree and Ojibwe, Johnston and his wife Mary were Indigenous Christian evangelists who wove both Christian and Indigenous elements into their practice.
Sources
Benn, Carl. Mohawks on the Nile: natives among the Canadian Voyageurs in Egypt, 1884-1885. Toronto: Natural Heritage Books, 2009.