Voyageurs of the Sudan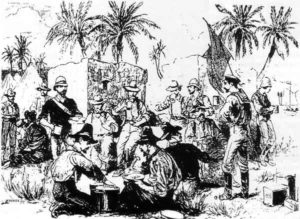 Born in a small Indigenous community along the Red River, at the age of twenty-four Jeremiah Johnston found himself far from home, along the sun-baked banks of the Nile. Johnston was one of many Indigenous "voyageurs" sent to the 1884 British campaign to rescue General Charles Gordon from the siege of Khartoum during the Anglo-Sudan war. General Gordon was sent to Sudan in early 1884 to evacuate the remaining British allied Egyptian garrisons, who were trapped in Sudan following an anti-colonial Muslim uprising. Yet on his rescue mission, Gordon himself became trapped in Khartoum, the Sudanese capital.
In response, Britain organized a relief expedition led by the Anglo-Irish General Garnet Wolseley. Wolseley planned to reach Khartoum through the Nile River and believed that Canadian voyageurs could help him traverse it. 386 voyageurs were recruited for six months to help row, paddle, pole, and drag the expedition's small boats up the Nile. Included among these voyageurs was a contingent of a dozen Saulteaux people led by Chief William Prince (the son of St. Peter's founder, Chief Peguis) and 25 voyageurs from Rat Portage.
By the time the boatmen's six-month contract expired, it had become clear the expedition would be unable to reach Gordon in time, and so many of the Canadian voyageurs left for home. Some did remain however, and in 28 January 1885, what was left of the expedition reached Khartoum. Yet it was too late, as just two days before their arrival, the city fell to the Mahdists rebels. Gordon and his garrison were killed. Though their mission failed, the voyageurs received special medals commemorating their services and a vote of thanks from the British parliament. Du Vernet described Jeremiah Johnston's medals in the first episode of the diary, and you can see him wearing them in this picture.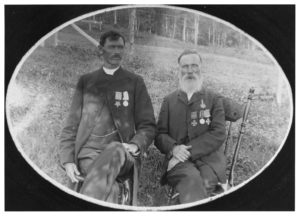 Sources
Benn, Carl. Mohawks on the Nile: Natives Among the Canadian Voyageurs in Egypt, 1884-1885. Toronto: Natural Heritage Books, 2009.
Michel, Anthony P. "To Represent the Country in Egypt: Aboriginality, Britishness, Anglophone Canadian Identities, and the Nile Voyageur Contingent, 1884-1885," Histoire Sociale / Social History 39, no. 77 (2006) 45-77. View Online