Click on the "play" button to hear the diary episode read aloud, and click on the green tab 1 to learn more about a word or phrase.
Find Du Vernet on a map.

At the evening service there were not so many – we heard afterwards that there was a great dance going on 2 and that eight horses had been gambled away. I heard the tom-tom 3 at 12 that night, and at 2 and, alas, 3 o'clock as I could not sleep because of the heat and the mosquitoes.
There were about 14 present at the evening service, 8 being Indians 4 . Thomas Bunyan 5 , a baptized 6 Christian 7 , had let his house for "the big tent" (for the dance and gambling). Thomas is trying to face both ways, I am afraid. He is a brother of the old Chief 8 .
As there were so few Indians present and some of those could understand English I read the last part of my sermon slowly: I preached on the Son of God who loved me so (Gal 2:20) 9 , with Mr. Johnston 10 translating. I did not quote sentence by sentence, knowing that Mr. Johnston could easily follow my simple remarks, so I gave a complete idea in a short paragraph.
The singing was very good.
"Onward Christian Soldiers" 11 seemed very stirring, and "Alas and did My Saviour bleed" 12 was very touching. By the time the service was drawing to a close we could scarcely see to read so we sang the doxology 13 in Indian 14 and offered up the closing prayers and pronounced the benediction 15 , thus bringing to a close one of the most memorable days in my life.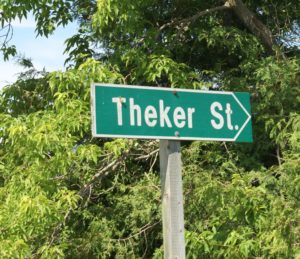 Horace Theker 16 's pathetic remark, spoken under the great affliction of a stoppage of speech, "You won't forget me," will long linger in my memory. He borrowed Mr. Johnston's boat to go down the river three miles, from where he would walk a further three miles.
[July 17th, 1898]
---
---