Click on the "play" button to hear the diary episode read aloud, and click on the green tab 1 to learn more about a word or phrase.
Find Du Vernet on a map.
Beyond this we came across an old Indian 2 sitting under a shade tent making canoe ribs. He was the only Indian we saw working 3 while on this tour round the houses. He seemed an interesting old man and we tried to bring some truth home to his mind 4 .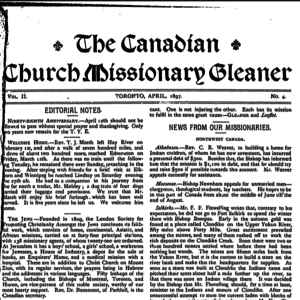 When Mr. Johnston 5 took up the crooked knife and began whittling, the old man said he seemed to know how to use the knife. "Why not, I am an Indian 6 " was Mr. Johnston's reply. The old man showed me his flint, steel, and tinder in his bag and struck a light in a few moments. They use matches now but this they still keep in case of being without matches. He seemed interested in hearing that I had come from the east a long way and was going on to the mountains. When he heard I was writing for a paper 7 and was glad to see all I could about their ways he grunted an exclamation of approval. I shall long remember this old man. He asked me to come more under his shade.
Returning down the reserve we visited John Cochrane's summer house. John is the father of 3 children who were baptized, while he is still a heathen 8 . The house is a regular square shape, made with a ridge pole and cross pieces. These are covered with bark, and there is a stove pipe here. Inside, the stove with a stove pipe and two beds, and a swing 9 for the little girl. On going outside, we saw a woman stirring flour in a big dish, and large round cakes of dough 10 . Three sticks held up a kettle outside.
A little Indian boy with a plate, cup and saucer sat under a shade tent taking his tea 11 off the ground. Half-a-day Charlie 12 's father said he was very glad to me see me going round to visit their tents.
[July 18th, 1898]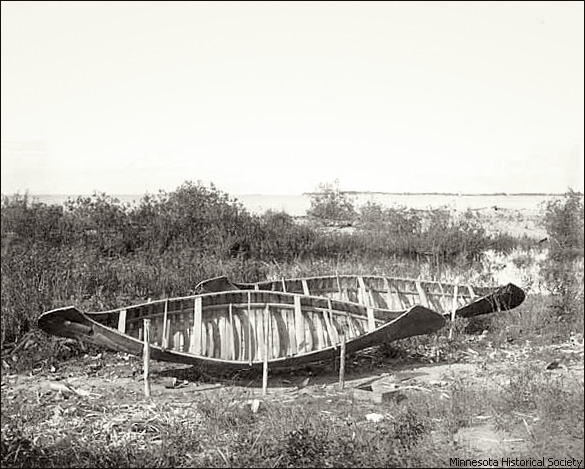 ---
---